Biên Hoà Factory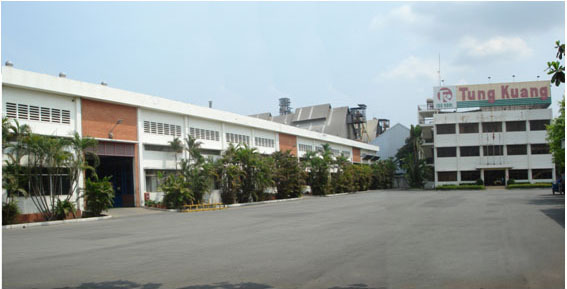 Tung Kuang alu. Products like Alu door, Alu window, and composite panel already approved by many big constructives project like: Uni-President, Viet-Phap hospital, Ching-Luh company, Phu My Hung,….
And we can sure that Tung Kuang already get her reputation at the market and its products spreaded all over this country.
Tung Kuang Alu. Products is versatality to suit to industrial, Inner room decorateed , and some related industrial field.
Address: No.3, 2A, Bien Hoa II Industrial Park, Dong Nai Pro.
Square Meter: 25,000m2
Tel: 061-3836552 - 061- 3836692
Fax: 061.3836552 – 061.3836553
Email: tungkuang@hcm.vnn.vn
Website: www.tungkuang.com.vn
Equipment:
Extrusion machine:1350ton, 880ton, 660ton x 2, 500ton

Anodizing pool

Powder coating line: 2 lines
Inharit of our Taiwan Mother company modern technology and Experience, but also imported high quality of material from Austiral, Saudi Arabia, China… our products meet to the morden trend of the world
From the license No. 1995/04/05 the total invested amount USD 5,500,000, issued by the Invested Department, Vietnam, till now it already increased its invested amout to USD 45,000,000.